Don't you wish you could x-ray the used car you want to buy and know exactly what it is worth? That way you could know all the goods inside are working fine, the car will last a long time and you are getting a great deal. Well since there is no x-ray machine for your car, these tips will help you with the stress of your used car (or truck) shopping experience.
1. Know your budget
Know what you want to spend. It may sound simple, but once you go into a dealer you will see there are many choices out of your range, and you may leave with a car you cannot afford. Find out the monthly payment, down payment, purchase price of the vehicle, insurance cost and fuel cost. Also consider sales tax, dealer fees, registration, etc. Have the sales rep walk you through the costs. If they are focusing on monthly payments be sure to take a step back and do the math yourself to see overall costs.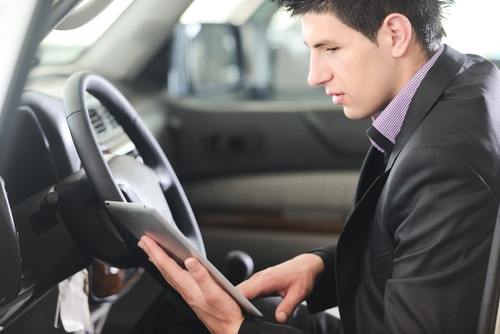 Search online and know what vehicles you are considering. Read reviews, talk to family and friends, know what cars have the best ratings. Then find a reputable dealer. Research the dealer's website and know the price of their cars. Look for featured cars and why those are being highlighted.
You can do your homework about the car before you even arrive. Then go to Kelley Blue Book and Edmunds.com to know the true value of the car. Artofmanliness.com says those sites will give you the trademarked value, but Edmunds will also check what others have paid for that particular car. The more homework you do, the better.
3. Take it on a test drive
Don't just take the car around the block; take it on a test drive that covers different terrain. Drive on freeways, bendy roads, up hills and even take it to an empty parking lot where you can backup, take sharp turns and make sure it drives smooth. Turn the radio off and listen to make sure it doesn't have any odd noises. If it has special features like four-wheel drive, sport mode or economy mode test them out.
4. Have a list of things to check for
Make a list of things you want to check for in the car and have it with you. Here are some things to include:
Suspension (is the ride smooth?)
Do the brakes work
Check all lights (brake lights, headlights, interior lights)
Check the oil
Look at the tires
Inspect the exterior (Look for signs of body repair)
Get the VIN number
Test the radio and sound system
Ask for a maintenance record
Check cruise control
Check all door locks and windows
5. Pull a Carfax
It is always important to pull a Carfax even if the dealer tells you all about the car. The Carfax will have everything about where the car came from.
6. Bring someone to smell the car
Do you know someone that has a good nose? Well, bring them to smell the car. Make sure that there was no smoking in the car if that is what you prefer and to make sure that the car is clean. Consumer Reports says if you smell a musty smell it could indicate a water leak. They also say to look under the floor mats for water spots.
7. Take a moment to breathe
Don't rush your decision, but don't lose your deal. Simply take some moments and make sure you are not rushing your decision. Consult friends or family and make sure you found the best deal for you. Purchasing motor vehicles made the list of top consumer complaints, according to Attorney General Roy Cooper of North Carolina. He encourages consumers everywhere to not rush their decisions. Go back over all your notes and homework to make sure you are getting the best used car for you.
This story was brought to you by Young Automotive Group.